Database Backup Utility for Windows CE
Finally! You can back up all your Databases directly to a file on the HP/C - even a file on a storage card. Backups can contain one or more Databases, and you can selectively restore one or more Databases from a backup. Make as many backups as you'd like. Compact your Databases by doing a backup and then a restore.


New Version
Version 1.01 corrects a conflict with the HP's Database Backup file names and corrects the installer to work with SH3 devices.

When you install this version over a 1.0 version you will get an additional 21 days before you must register.

Old backup files will not be usable once you install this version. You should make a new backup with the new version.


21 Day Demo
The Database Backup Utility includes full help and a Windows95/NT Installer. Just unzip the package and run SetUp, and it will be installed and configured on your HP/C. The Demo will allow backups and restores for 21 days. After 21 days you will only be able to restore from existing backups.
DemoWare
The Database Backup Utility is Copyright (C) 1997, John Schettino. This version is DemoWare. The Demo version will work for 21 days after you install it on the HP/C. After that time you will only be able to restore existing backups made using Database Backup Utility. You may purchase the full version directly from Schettino Software (see the help files for information on direct purchase) or right off the web for $19.95 using a credit card from Mobilesoft
Get the Demo Now!
Click here to download the 21 day Demo version. If you have problems with this link, you can download it from CE Monster.


Screen Shots!
The Database Backup Utility is simple to use, but very powerful. Here is the main window, ready to perform a backup: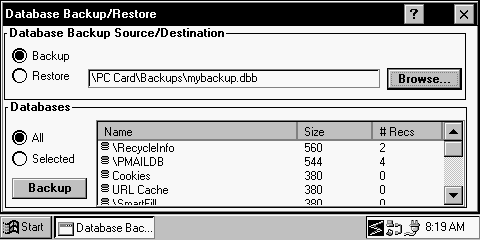 And opening a backup, ready to restore: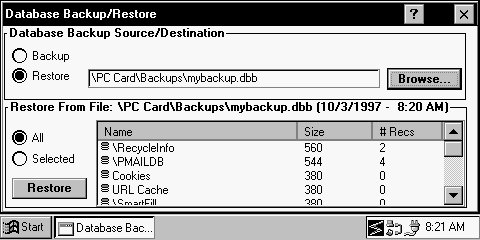 Getting Help: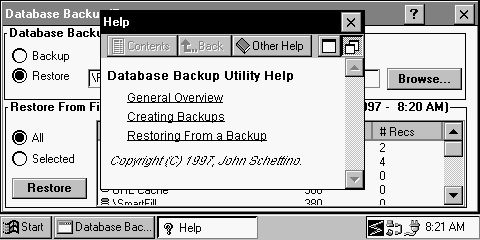 Full Support for the WindowsCE shell, which means you can launch Database Backup Utiltiy by double tapping a backup file, or dropping a backup file onto the application: